Paintings - Impressionistic Realism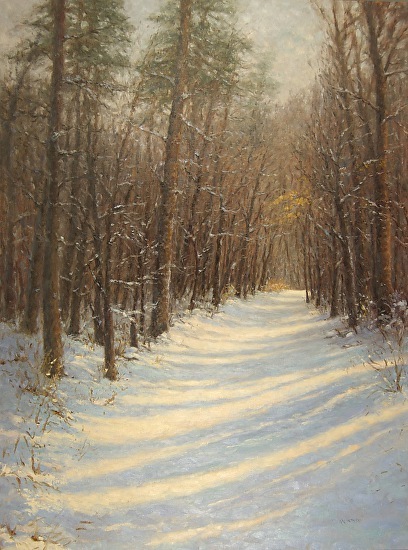 "The Wooded Path", oil on oil primed linen, 40x30, $3500. framed.
Currently on exhibit at the 29th Annual West Michigan Regional Competition at LowellArts, February 26 - April 16, 2015, Lowell Michigan. Artist reception is March 19, 5-8pm.
---
Upcoming Exhibit - March 19 - April 28Landscape Impressionsfeaturing recent oil and pastel works by Kathleen Kalinowskiat the Van Singel Art Center8500 Burlingame Ave SW, Byron Center, MI 49315

Artist Reception is April 23, 2015

5:30-8:00 pm - all are invited to attend!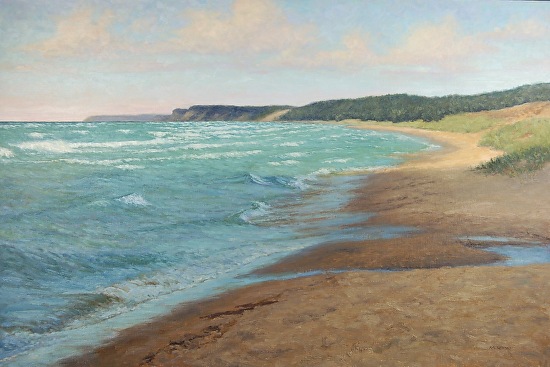 Summer Waves, oil, 24x36
"Whether working on-site or in my studio, the pattern of light and shadow is the first thing that draws me to a subject. My intent is to capture the sense of the place. The relationship of elements, quality of light, atmosphere, and color harmonies create a visual poetry that I seek to express in my work. My hope is that the viewer will be left with a feeling of pleasure and another understanding of how beautiful our world can be."
---
New workshops added for 2015!
---
Sign up for the monthly newsletter! Every month there will be a specially priced plein air painting. Be the first to contact me by e-mail and it is yours.
Congratulations to Nancy, she now owns the painting featured in the March Newsletter!
---
Sold work up to Jan. 1, 2015 is Archived.
Copyright 2010, Kathleen Kalinowski
All images on this site are copyrighted and are not for use without the written consent of Kathleen Kalinowski.