Contemporary American Impressionist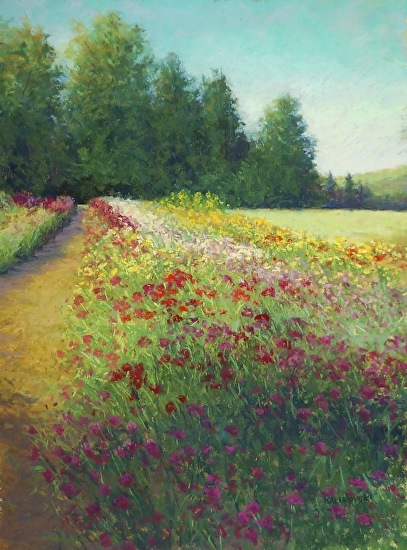 "Nancy's Cutting Garden", pastel, image 22x15, Framed to 28x22
This painting will be on silent auction at the "Art in Bloom" event at the Grand Rapids Art Museum. See "Events" for more information.
Nancy's cutting garden was discovered as I stopped to buy a fresh bouquet towards the end of summer. The flower assortment is planted where the strawberry fields were. I have picked strawberries and raspberries at this farm ever since a child and have fond memories of going there with my Grandmother. They still grow the berries and also own "the Milk House" with the best strawberry shortcake and strawberry sundaes you could imagine!
Several 6x6 pastel studies of the flower fields are also on the pastel page.
Matted and framed with an awesome carved gold frame. Anti-reflective glass.
"

In nature, light creates the color. In the picture, colour creates the light." - Hans Hofmann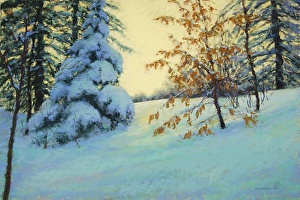 "Luminous", 2014, pastel, 12x18, $950 framed
Accepted into the Great Lakes Pastel Society National Exhibit at the Dennos Museum in Traverse City, MI
Exhibit dates: Apr. 13 – May 25, 2014 (during GLPS Biennial Convention May 16 – 18)
Reception: Fri, May 16, 7:00 – 9:00 pm (ET)
Awards: 8:00 pm
Hours of Operation: Mon – Sat 10:00 – 5:00, Sun 1:00 - 5:00, Thur 10:00 - 8:00
To see new blog posts, click on the blog link on the main menu.
To see past blog posts see : http://www.anartistsmark.blogspot.com
Copyright 2010, Kathleen Kalinowski
All images on this site are copyrighted and are not for use without the written consent of Kathleen Kalinowski.