Contemporary American Impressionist
FRESH OFF THE EASEL!
A plein air painting, "Old Apricot Orchard", oil on linen panel, 11x14, $800. framed.
---
"Color and Light"
A solo exhibition of over 40 oils and pastels at the Dominican Center Marywood Gallery
2025 Fulton St. NE, Grand Rapids, MI
September 5 - October 31, 2014
---
Sign up for the monthly newsletter! Every month, starting in August, there will be a specially priced plein air painting. Be the first to contact me by e-mail and it is yours.
Congratulations to Diane. She now owns the painting "River Banks" featured in the October newsletter.
---
MAGAZINE COVER!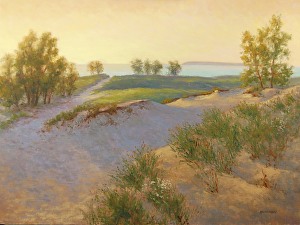 On the cover of the Manitou Magazine, published in Leelanau County.The original oil is available at Treeline Gallery in Sutton's Bay, MI.


---
Copyright 2010, Kathleen Kalinowski
All images on this site are copyrighted and are not for use without the written consent of Kathleen Kalinowski.